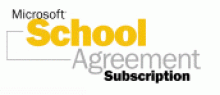 Microsoft School Agreement is a comprehensive, annually renewable licensing programme that meets the unique needs of primary and secondary schools.
The contract provides for the possibility to rent at a very affordable price a wide range of Microsoft products (Application, System or Server CAL).
The CNOS- FAP Federation and Microsoft School Agreement signed a memorandum of agreement on 06.01.2008.
Microsoft official website: www.microsoft.com