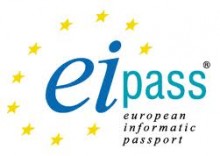 CERTIPASS is the only entity delivering the international digital competences certification programmes EIPASS (European Informatic Passport), released upon the European Community territory, and IIPASS, upon extra-community territory.
The certification programmes delivered and the digital culture promoted are aligned with professional and employment perspectives aimed at spreading competences to wider and wider segments of population.
Official website:www.eipass.com
On June 1, 2009 the CNOS-FAP Federation, CNOS/Scuola and CERTIPASS signed a Memorandum of Agreement.